Self-Managed Plan (SMP)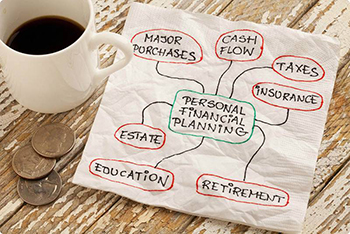 The SMP is an overview- an assessment of where you are now, an opportunity to think about where you would like to go, and then guidance as to how to make that happen. You receive an Action Checklist of items for you to implement to better align your actions with your goals and address any deficiencies in your financial situation.
3-4 meeting engagement¬—typically over 2-3 months depending upon scheduling.
Review of areas such as:

Current spending habits.
Insurance coverage in place: life, disability, homeowner's, auto, etc.
Current estate plan.
Current investment allocation.
College savings.

Online risk tolerance survey and discussion
Articulation and clarification of current short, medium, and long-term goals.
Retirement preparation and readiness projections using 2-4 scenarios.
Summary report including:

Comments and suggestions regarding the areas reviewed.
Discussion regarding investment allocation changes, if appropriate.
An Action Checklist of "To Do" items suggested for implementation along with some guidance to implement.

"Presentation Meeting":

Review of the summary report.
Online presentation via planning software.
Discussion of Action items.

Online access to the plan presentation following the Presentation meeting.
This engagement is for folks looking for a general review of their situation, for a list of items to address, and more sophisticated retirement projections than they can do themselves online. It's appropriate for people who have a proven track-record of following through on items outside their typical area of activity and expertise.
READY

TO TAKE THE FIRST STEP?

Schedule your no-charge, no-obligation Introductory Phone Call.
Seeking

Financial Freedom?