Foundation Program (FP)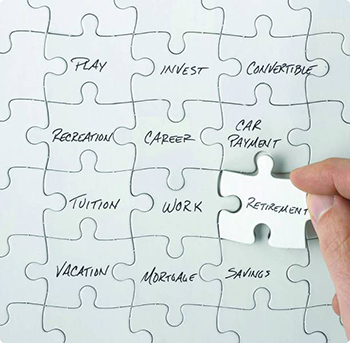 The FP goes beyond the higher-altitude assessment of the Self-Managed Plan. It digs deeper- both in what you are doing and exploring where you might go. Instead of saying "you can't do that", the attitude is "how can you do it differently" to make it work. You aren't on your own- you have help- ongoing help- to make sure things get done. The other nice thing is that it's flexible. If while we're working together something new comes up, we can address that new wrinkle in your financial, personal or professional life and decide how best to deal with it. The FP is for people who want more than just an overview. They want to explore options and opportunities, to go more in-depth, and help accomplishing their "To Do's". They're looking to build a strong financial foundation.
Typically 5-7 meetings over the course of a year (1year engagement).
All items listed for SMP engagement,
PLUS
Assistance, organization and accountability in starting and completing items on the Action Checklist.
Use of various tools and exercises to further clarify/quantify goals, dreams, values—the things that influence and drive decision-making and follow-through.
More in-depth discussions regarding goals and plans pre- and post-retirement. There's more time to explore options you may not have considered or that will better allow you to do what you want.
If appropriate:

Spending Plan (budget) development and tracking.
Discussion and work on finding common ground for areas of differing opinion or beliefs in regards to goals or money habits.
Estate plan development in preparation for having documents drafted.
Assistance in finding and vetting other professionals such as attorneys, accountants, insurance agents, etc. if needed.
Assistance in working with other professionals to implement Action Items (i.e. the right insurance policy with the right coverage for the right cost; your wishes accurately reflected in your estate documents).
This engagement doesn't leave it to you to do all the implementation work on your own. You have help managing and coordinating that work—even with, if appropriate, other professionals. There's time to explore and discuss ideas that may not otherwise see the light of day because of lack of time, fear they won't be well-received, or self-selecting that they just aren't possible.
READY

TO TAKE THE FIRST STEP?

Schedule your no-charge, no-obligation Introductory Phone Call.
Seeking

Financial Freedom?